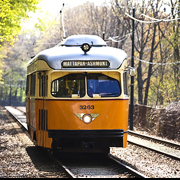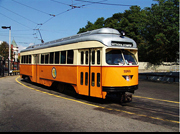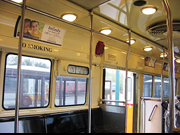 GHOST TRAIN
You could live in or around Boston your whole life, knowing all about the Green, Blue, Red and Orange lines of the "T". Adventurous ones may also be familiar with the Silver Line buses, the Commuter Rail and even the Water Shuttles. BUT... folks who never venture to Dorchester, Milton or Mattapan have likely never seen an MBTA train like this.
STILL CHUGGIN'
So here's a surprise for many Bostonians - an eleven-count fleet of these light rail PCC (President's Conference Committee car) trolleys are still running today! As the western leg of the MBTA Red Line terminates at Ashmont Station (at the corner of Dorchester Avenue and Ashmont Street at Liberty Square), the Mattapan High Speed Trolley Line begins there (upstairs) as an extension of the Red Line into Mattapan Square. Southbound Red Line passengers are not charged an additional fare to ride the trolley south just as Mattapan riders are not charged to transfer to the inbound Red Line at Ashmont going north.
ORANGE TRAINS ON THE RED LINE?
These 1945 trolleys were originally painted orange and cream with silver tops (as pictured) and ran on the East-West lines of the "M.T.A".
In 1964, the M.T.A. became the "M.B.T.A" and the Green, Blue, Orange, Red colors were assigned one year later in 1965. So for their first 20 years, these orange trolleys ran on the same tracks we now call the "Green Line" without any regard for color.
In 1965, they were appropriately painted green and remained green for the next 20 years. When the fleet was deployed on the Mattapan line, they were all still green. But as the cars were refurbished one-by-one, the decision was made to restore them to their original historic orange color scheme (instead of painting them red). Because they were refurbished one at a time, there was a multiple-year period that some were green and some were orange at the same time, all while functioning on the Red line. Whacky, huh?
SO, WHO CARES?...
Subway and train aficionadi are certainly impressed! Not only does the historic 1929 Old Colony Railroad line (Boston/New Haven/New York) survive, but so do these 1945 Pullman Standard PCC cars. And though this type of trolley existed in many American big cities, only San Francisco and Boston still have an active fleet. So... while in Boston, do ride the Mattapan High Speed Trolley Line. It's a train ride through the past. Happy Rails!
Photos by Jasperdo, A.J.Kandy and signalPAD [www.flickr.com], story by Mike.
---
MORE INFO...
YouTube Video
Mattapan High Speed Rail Line
Trolley Types

---