BEETHOVEN / LISITSA
Here is Valentina Lisitsa performing the 3rd Movement of Ludwig van Beethoven's Sonata #14 in C# Minor (Op. 27 No. 2). Check it out...
Beethoven Sonata #14 in C# Minor, 3rd Movement played by Valentina Lisitsa
...And Daniil Trifonov playing the Chopin Scherzo in C# Minor.
---
PORCUPINE TREE
Porcupine Tree is a rock band formed by Steven Wilson in 1987 in Hemel Hempstead, Hertfordshire, England. Frequently associated with both psychedelic rock and progressive rock, their music has been also influenced by trance, krautrock and ambient due to Steven Wilson and Richard Barbieri's liking for the Kosmische Musik scene of the early '70s, led by bands such as Tangerine Dream, Neu! and Can[1]. Since the early 2000s, their music has been leaning towards heavy metal.
The band are noted for their multimedia approach, with their live performances including screens displaying a different film projection to each song. This visual element was introduced during the tour for the In Absentia album, when the band started to work with Danish photographer and filmmaker Lasse Hoile, whose involvement has created a distinctive image for the band.
---
MY PORCUPINE TREE TICKET STUBS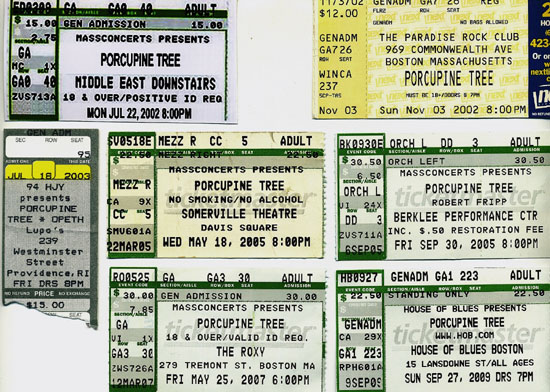 ---