BEETHOVEN / LISITSA
Here is Valentina Lisitsa performing the 3rd Movement of Ludwig van Beethoven's Sonata #14 in C# Minor (Op. 27 No. 2). Check it out...
Beethoven Sonata #14 in C# Minor, 3rd Movement played by Valentina Lisitsa
---
PORCUPINE TREE
Porcupine Tree is a rock band formed by Steven Wilson in 1987 in Hemel Hempstead, Hertfordshire, England. Frequently associated with both psychedelic rock and progressive rock, their music has been also influenced by trance, krautrock and ambient due to Steven Wilson and Richard Barbieri's liking for the Kosmische Musik scene of the early '70s, led by bands such as Tangerine Dream, Neu! and Can[1]. Since the early 2000s, their music has been leaning towards heavy metal.
The band are noted for their multimedia approach, with their live performances including screens displaying a different film projection to each song. This visual element was introduced during the tour for the In Absentia album, when the band started to work with Danish photographer and filmmaker Lasse Hoile, whose involvement has created a distinctive image for the band.
---
MY PORCUPINE TREE TICKET STUBS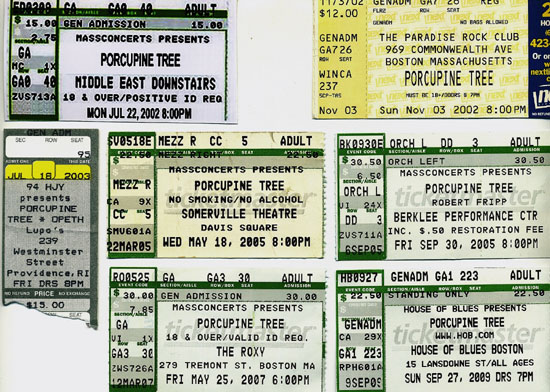 ---

HENRYK GÓRECKI DIES AT 76
Polish composer Henryk Górecki died November 12th at age 76. The news was announced this morning by the Polish National Radio Symphony.
Górecki was little known outside Poland until a 1992 recording of his Symphony No. 3, subtitled the "Symphony of Sorrowful Songs," shot up the charts, eventually selling well over a million copies, and was heard on radio stations around the world.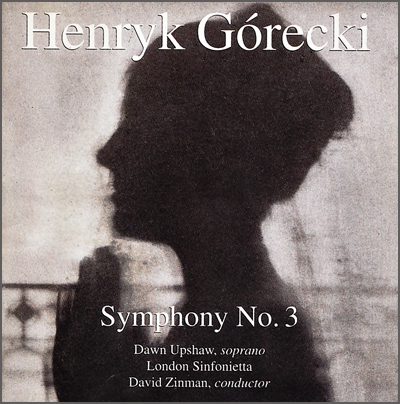 The symphony, which Górecki wrote in 1976, is centered on three texts - including a prayer inscribed by a teenager on a cell wall of a Gestapo headquarters - which the composer turned into haunting laments, backed by simple, slowly churning surges of beautiful music.
Górecki was born in Czernia in 1933 and studied composing at the Academy in Katowice. Early on, he was part of a group of Polish avant-garde composers, adopting the serialist style of atonality, but he eventually abandoned it for the more reflective, gentle and transcendent style found in the "Symphony of Sorrowful Songs."
David Zinman's 1992 recording of the Symphony No. 3, with the London Sinfonietta and soprano Dawn Upshaw, made Górecki a sensation even beyond traditional classical music circles.
He was one of the most talked about composers in classical music for a few years, but Gorecki never delivered another piece that caught the imagination of the public like the Symphony did.
Was he, in the end, a one-hit composer? Tim Page says yes, but there are a number of other works worth seeking out.
"The choral work Beatus Vir is thrilling," Page says. "Not terribly different from the Symphony, but more affirmative and it must be pretty amazing in live performance. I'm also very fond of 'Lerchenmusik,' which has to be the weirdest piece of chamber music from the 1980 - a sort of Messiaen meets Beethoven's Fourth Concerto on acid. And some of his early music is engaging."
~ Article from npr.org website.
---